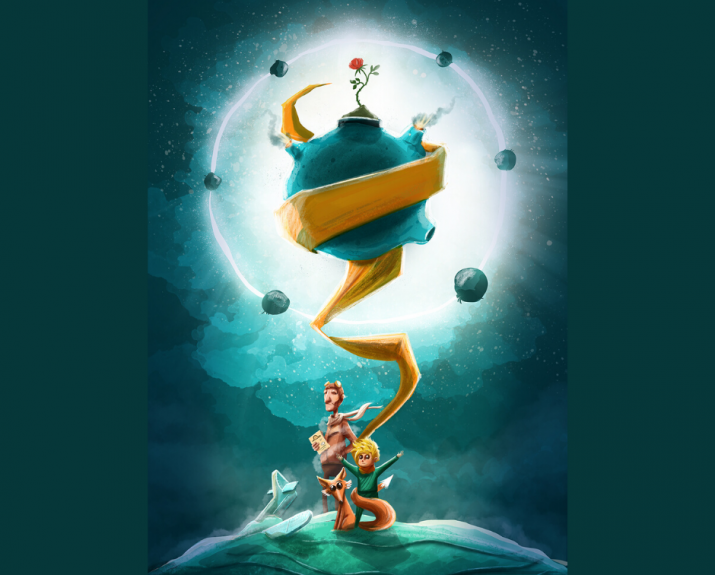 Premiere

LITTLE PRINCE

Antoine de Saint Exupery
Director:
Author of adaptation and dramaturge:
Costume design:
Set designer:
Composers:
Choreographer:
Lighting design:
Assistant director:
Cast:
Mali princ: Vanja Paulić / Luka Babić
Ruža: Elena Kolić
Lucija Štefanić
Zbor avijatičara: Antonio Valenčić / Matea Blažević / David Crnjaković / Nika Miculinić / Jan Jokić / Ilina Lukić / Leon Hasančević Matijašić / Lora Matijašić / Iva Mačinković / Lucija Pedić / Petra Polić / Lun Žic Paskuči / Dora Smokrović
Zemaljske ruže: Dora Katalinić / Nurija Ricken / Karla Šoštarić / Mia Lukić
Song performs:
Petar Đula Vrbanić
Stage manager:
Prompter:
Premiere: 4 December 2019
Co-production: CNT Ivan pl. Zajc and INT City Theatre Pula
It is not easy to retell the story that everyone knows, the story that does not know the age limit, the story you were told and that you tell, the story of the Little Prince. There is no child or a grown-up who does not consider the Little Prince to be a real philosophical gem, always reminding us that nothing is as it seems to be. In co-operation with the Italian drama and the Rijeka Youth Theatre Kamov, and in the direction of Renata Carola Gatica, author experienced in the theatre for children and the young, The Croatian Drama is realizing the production worthy of the favourite book of all generation, making thus happy both the grown-ups and children. Staging the Little Prince we are beginning our journey full of unusual questions, inviting you to join us in the quest of answers.